University Health Achieves Additional $10M in Monthly Cash Collections
About
In 2012, Louisiana Governor Bobby Jindal released his plan to privatize the state's 10 public hospitals. The transition of two of the hospitals – the E.A. Conway Medical Center in Monroe and the Louisiana State University Medical Center in Shreveport – were orchestrated by the Biomedical Research Foundation (BRF) of Northwest Louisiana. The firm's charter was not only to blend the operations of these facilities into a private, nonprofit health system, but also to reduce their dependence on state funding1.
Challenge
With an extremely tight deadline of 135 days to complete the transition from public to private ownership, BRF retained the services of Alvarez & Marsal Healthcare Industry Group (A&M) to turn the two hospitals into one system. Furthermore, the Louisiana Department of Health and Hospitals significantly reduced funding to state-run healthcare organizations, making it imperative that University Health (UH) secure other sources of revenue2. In 2013, average monthly cash collections from both hospitals lingered around $16 million, far from the influx that would untether it from the state.
Solution
After a rigorous selection process to find a third-party partner that could meet the clinical, operational and organizational challenges, A&M executives sought the expertise of Conifer Health Solutions to infuse optimization across all revenue cycle functions. This collaboration contributed to the soaring of average monthly cash collections from both hospitals combined to $26 million in 2017 year to date.
---
59% Increase in Average Monthly Cash Collections

NOTE: Based on data collected by both University Health and Conifer Health Solutions.
---
University Health Reinvents Itself with Revenue Cycle Management
Transitioning from public to private ownership, UH emerges as a stable, successful nonprofit safety-net hospital system with help from Conifer Health's revenue cycle services.
---
Next Steps
Since 2013, UH has made tremendous strides, including receiving Advanced Certification as a Primary Stroke Center and National Quality Approval from The Joint Commission, and earning Shreveport's only Level 1 Trauma Center certification by the Louisiana Department of Health and Hospitals. Today, it continues to thrive with improved operations and clinical performance by decreasing patient wait times, improving ER and OR efficiencies, initiating major construction projects, and improving employee productivity and satisfaction.
By centralizing scheduling, obtaining pre-authorizations, automating key parts of the revenue cycle and assisting patients find insurance coverage, UH has given itself a much clearer path to fulfilling its mission of serving all the members of its community with the highest quality care while reducing dependence on state funds.
The technology and staffing resources necessary to reach new heights in care delivery come from steady cash flow gained through a sophisticated and comprehensive revenue cycle. This consistent revenue performance enables UH to continue to advance investments in patient care services and technology to improve quality and access.
Collaboration impact on University Health's revenue cycle performance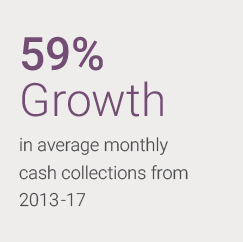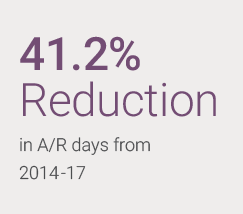 References
1, 2. BRF. University Health Initiative. Accessed July 2017.
All logos and trademarks are the sole property of their owners.