Third-Party Administrator Achieves Results for its Clients Through Cost Savings
About
This established third-party administrator ("TPA") of self-funded employee benefit plan services currently manages more than 150,000 lives. The TPA focuses on providing employer and union groups with healthcare products and services that allow for customization and competitive pricing.
Challenge
This organization, like similar TPAs, struggled with finding an innovative and integrated population health management solution for high-quality, cost-effective medical management for its employer clients.
Solution
In 2010, the organization partnered with Conifer Health to more effectively control its employer clients' healthcare costs while enhancing employee care. Conifer Health's population health solution enables a comprehensive, in-depth understanding of employee populations while empowering its care management nurses with actionable data to identify high-risk, high-cost members for targeted engagement efforts. This partnership has achieved sustainable success, delivering the TPA a 4:1 ROI for each dollar invested in 2016.1
Clinical and Financial Data Empowers Cost-Effective Care Management
Conifer Health has helped this client achieve sustainable, cost-effective care management for its employer and union clients by leveraging its robust solution and arming care management nurses with the data needed to drive positive outcomes.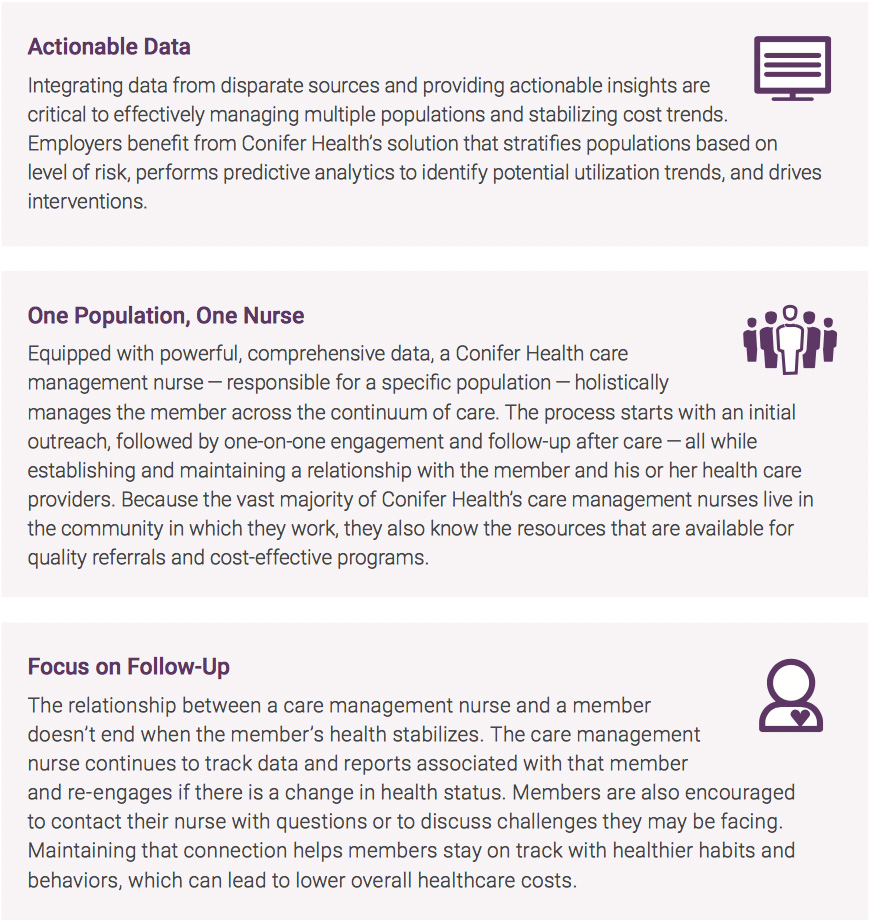 What's Next
Our client continues to experience steady, pro table growth, adding employer groups and increasing total covered lives. In 2017, so far 14 additional employer groups are targeted to join the TPA and the number is expected to increase signi cantly by year's end.
References
*URAC accreditation through Conifer Care Continuum Solutions, a Conifer Health Solutions company. All logos and trademarks are the sole property of their owners. ©2017 Conifer Health Solutions, LLC. All Rights Reserved. CS_Third-Party Administrator 052317.