Rethinking the Revenue Cycle: Investment Trade-Offs Facing Physician Groups
Rethinking revenue cycle management (RCM) will weigh heavy on the near-term future of many physician groups as value-based care penetrates deeper into the industry. Physician groups are already faced with continuous regulatory and compliance requirements, increased pressure from payers and declining revenues and reimbursement. Ongoing investments will be vital to improve overall financial and quality performance for many physician organizations.
With pressure to put quality of care at the forefront, physician groups must make the right trade-offs between a fixed investment in their capital infrastructure and the variable costs of outsourcing parts – or all functions – of their revenue cycle.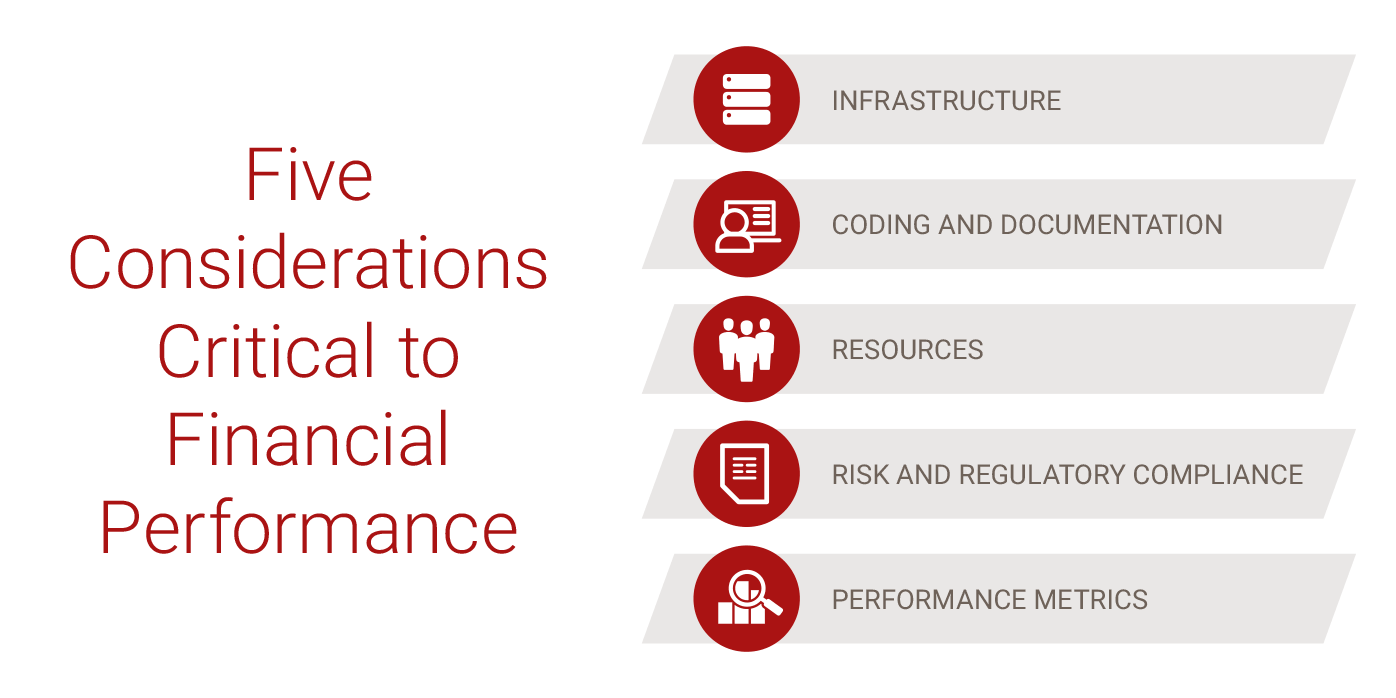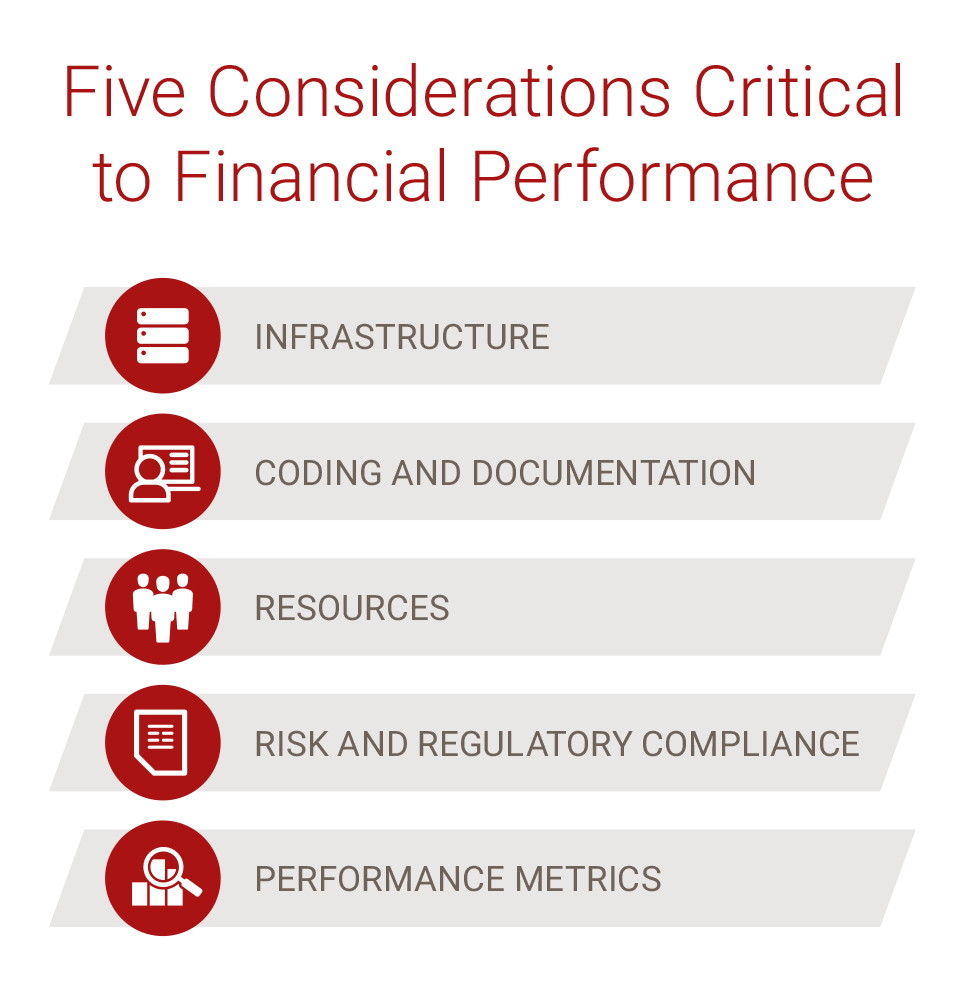 1.
Infrastructure
The technology infrastructure of the revenue cycle directly impacts a physician group's financial performance. With many physician groups facing capital budget shortages and constraints, it's difficult to purchase, implement and operate the technology required for a high-performing revenue cycle
To thrive under value-based reimbursement, physician leaders should ask a few critical questions:
Does the organization have the right technology in place to support new regulatory mandates (i.e., MACRA, MIPS), quality reporting and measurement requirements?
Does the organization have the resources, expertise and processes in place to effectively operate and sustain a state-of-the-art revenue cycle infrastructure?
Does the organization have budget allocation to maintain ongoing technology hardware/software maintenance?
Determining the right way to set up a successful, modernized revenue cycle infrastructure depends on many variables. It's important that revenue cycle leaders choose either to fully invest in making the revenue cycle a core competency of the organization, or to outsource part or all the revenue cycle to proven experts. The strategic decision to buy versus build or create a type of hybrid model will prove to be vital to the overall financial health of organizations in the years ahead. This investment decision must be aligned with the overall vision and strategy for each physician group, and the potential relationship with regional health systems that may afford alternative investment options.
2.
Coding and Documentation
Coding will continue to be a high priority for provider organizations. In addition to keeping up with ongoing ICD-10 and MACRA demands, physician groups will have to battle coder shortages and an institutional lack of knowledge about the new coding requirements. Expect the challenges to deepen as healthcare organizations, insurers and other stakeholders try to quickly adapt to an environment that requires far more robust clinical documentation and training of physicians and clinical staff. Also, look for organizationwide efforts to bring everyone along the revenue cycle continuum up to speed on regulatory updates to avoid delayed or unpaid reimbursements. Proper expertise in this area is critical to clean-claim rates, medical necessity edits, denials avoidance and appeal capability. Coding expertise has become a critical requirement for A/R follow-up like it never was before.
3.
Resources
While many physician groups have focused on technology as an opportunity to improve revenue cycle capabilities, these organizations are now finding themselves strapped with limited resources and a lack of expertise to effectively manage day-to-day operations. Lack of qualified staff or overstretched resources can cripple a physician group's cash flow and reimbursements, and impacts patient satisfaction.
To avoid the expense of recruiting, hiring, training and retaining internal hires, many physician groups will consider partial or full outsourcing to experts who already have the specialized talent to support key functional areas of the revenue cycle – patient registration, coding and documentation, claims and A/R management. Revenue cycle partners can help optimize operations, allowing physician groups to focus on patient care while improving financial performance.
4.
Risk and Regulatory Compliance
Keeping up with continuous regulations is a true challenge and risk to physician groups if a comprehensive compliance program is not put in place. With healthcare continuing to receive an ever-increasing portion of national political attention, the focus on compliance is at an all-time high. Physician groups will be overburdened with the complexities of regulations and will look outside their respective organizations for compliance assistance.
Risk audits and continuous monitoring are critical to an effective compliance program, along with a governance process that includes education and training, and a corrective action and communication plan to remediate issues. Without a streamlined compliance program, physician organizations may face negative, non-compliant consequences that can be very costly and lead to an increased risk to future audits.
5.
Performance Metrics
Operating a high-performing revenue cycle or just trying to improve an out-of-date version of an existing revenue cycle? Evaluate and audit revenue cycle performance across key functional areas to determine your organization's level of revenue cycle maturity: Level 1 (lack of process/technology/resources) to a Level 5 (highly sophisticated systems/processes and sufficient resources).
If claim-denial rates are high and the claims management functional area is performing at a Level 1 or 2, look to leverage an outsourcing partner to manage the claims management process, prevent denied claims, and get paid faster. Next, measure your current A/R performance. If 20% of A/R is over 120 days and this functional area is performing at a Level 2 or 3, leveraging a trusted outsourcing partner to drive cost efficiency and increase cash flow can be the right option for your physician group.
But, if 10% of A/R is under 120 days and the A/R management function is performing at a best practice level, or Level 4 or 5, continuing to invest internally in this area may be the right option. Understanding your level of process maturity and level of capability is the foundation for making rational investment decisions. Effectively utilize key performance indicators to determine the right way to accelerate the revenue cycle.
Rethinking the Revenue Cycle as a Core Competency
Healthcare organizations are under pressure to cut costs, improve reimbursement and cash flow, as well as improve efficiencies while balancing the challenges with having skilled resources. Most physician groups with 100 or more practitioners are utilizing partial or full outsourcing to address these issues.1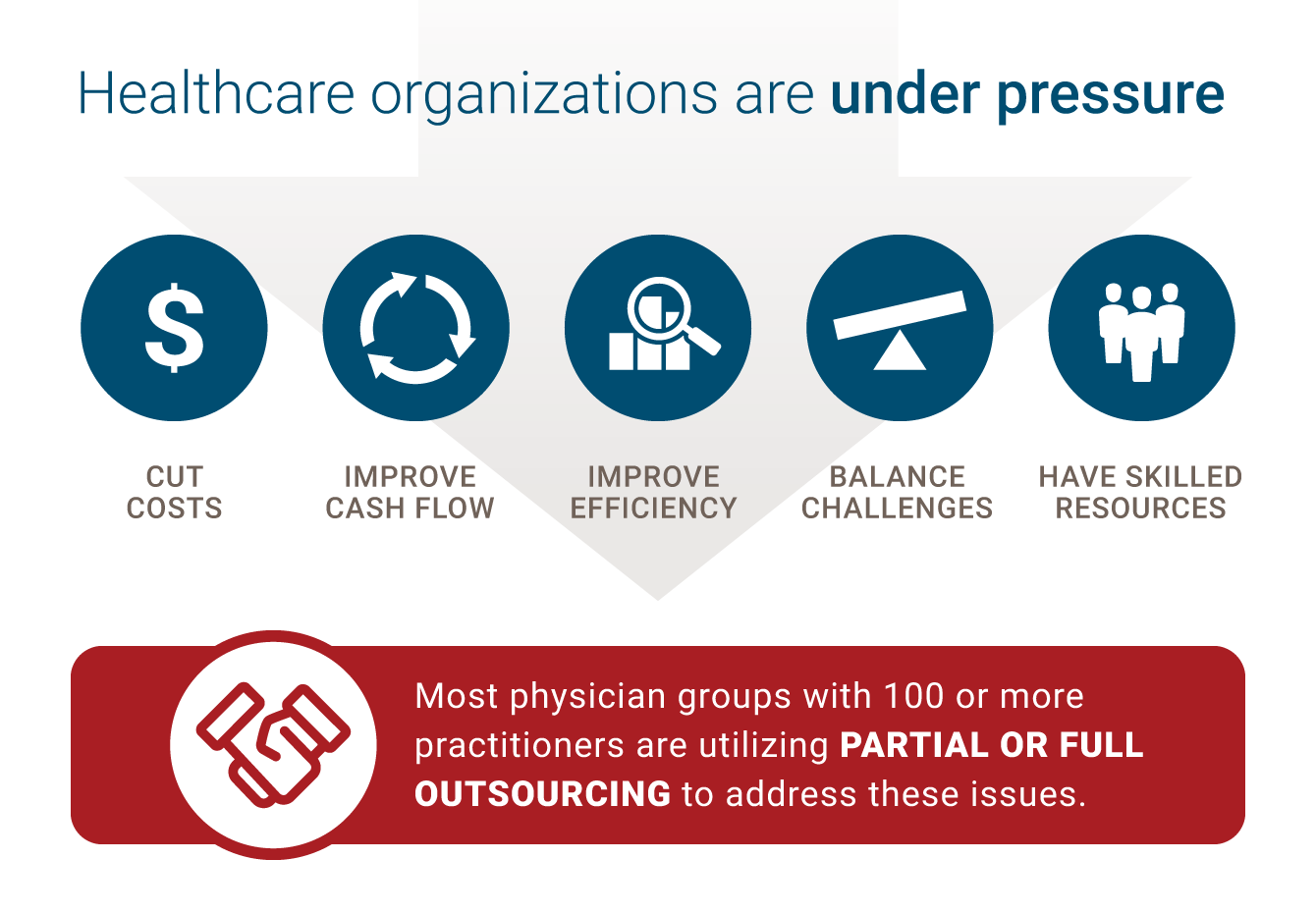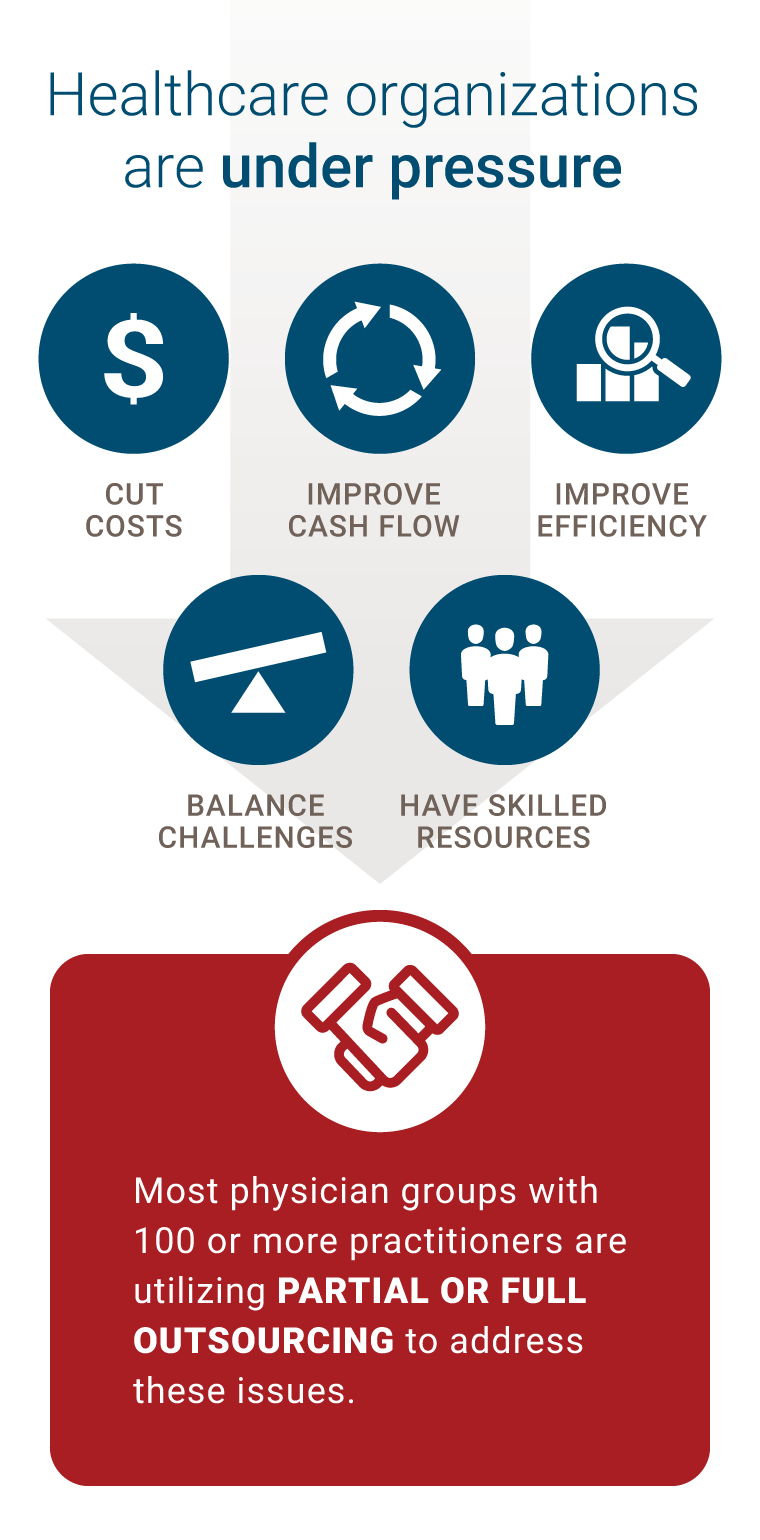 Revenue cycle services firms are a viable option for physician groups to help reduce revenue cycle complexity, achieve operational efficiencies, and support overall financial health. Conifer Health can help optimize the revenue cycle. With its right mix of people, process, and technology, Conifer Health can help to increase revenue, reduce costs, maintain compliance, and provide your organization with greater control to focus on care quality and delivery.
Reference
Black Book Market Research. 'Accelerating Number of Physicians Select Outsourced RCM Services to Align Clinical & Financial Outcomes, Shows Black Book Survey on Value-Based Care Prep' September 2016