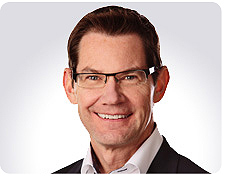 Stephen M. Mooney
President and CEO
Stephen Mooney is a veteran of the healthcare industry with more than 26 years of revenue cycle management and patient finance experience. He has served as president and CEO of Conifer Health Solutions since its formation in 2008.
Under Mooney's leadership, Conifer Health has evolved from a hospital revenue cycle services provider into a multi-billion company offering a full range of services to help hospitals, health systems and self-insured employers achieve better business outcomes.
"The evolution of Conifer Health is driven by two points of view: Consumers have a stake in how cost, quality and access impact healthcare. And the business of healthcare will increasingly touch the consumer in ways we haven't yet imagined," Mooney said. "Our work is about providing the solutions that help our clients go deeper to meet consumer demand while productively managing their reimbursements, no matter the payment models."
Mooney emphasizes the need for Conifer Health to be organized to deliver better patient, financial and operational outcomes to healthcare services buyers. He promotes a service delivery and growth agenda that acknowledges the headwinds providers face from every side — fragmented patient care, lower revenues, higher expenses and accountability for the health of diverse populations — and addresses their need to achieve improvements in the cost, quality and access of care.
Mooney drove the expansion of Conifer Health's industry footprint within the hospital revenue cycle space with the acquisition of Dell's Revenue Cycle Solutions business. Mooney's vision to create a healthcare services organization with a differentiated value proposition was further realized between 2012-14 with several key acquisitions. In 2012, Mooney oversaw the company's entry into value-based care services, including financial risk management and population health management, with the acquisitions of InforMed LLC and CAP Management Systems. The successful integration of these newly acquired companies resulted in Conifer Health's Value-Based Care (VBC) business unit. The formation of Conifer Health's Physician Services (PS) business unit soon followed in 2014 with the acquisition of Tinley Park, Illinois-based SPi Healthcare.
The combination of the VBC and PS business units, along with Conifer Health's well-established Hospital Revenue Cycle Management (HRCM) business, allowed the company to secure its place as a leading healthcare services provider to some of the largest hospital and health systems in the nation. Mooney has successfully led the growth of the company's client base and its rise as a major employer. Today, Conifer Health operates in over 40 states, provides services to more than 800 clients across multiple healthcare industry segments and its workforce is now more than 14,000 team members strong.
Mooney began his career at Tenet Healthcare Corp. and has held various leadership positions within Conifer Health and Tenet. Mooney received his bachelor's degree from Stockton State College in New Jersey and his MBA from Pepperdine University in California.
Achievements
President of Conifer Health Solutions since its formation in 2008
Leader of Conifer Health's predecessor organization, Tenet Patient Financial Services, from 2004-08
More than 26 years of revenue cycle industry experience with Conifer Health and Tenet
Bachelor of Arts, Stockton State College, New Jersey
Master of Business Administration, Pepperdine University
Ernst & Young Entrepreneur of the Year in the Health Services, Southwest Area North region